Climate control – but not as you know it.
Imagine coming home to the perfect environment – every time. Experience total control of your own space. Milieu Climate goes beyond the average thermostat, allowing you to manage and automate temperatures within your home, while providing insights into everything from air quality and lighting levels, to sound, pressure and humidity.
Shop
Get to know Milieu Climate's 7 built-in sensors – Click on the sensors to learn more
Temperature
Milieu Climate smart thermostat keeps you comfortable where you are. Its built-in sensors adjust to your routine to deliver the perfect level of heating or cooling.
Auto-adjusting temperature
App control
Auto schedule – set it for particular times
Automatically switches off if no one's home
Integrates with most heating and cooling systems
Simple controls
Conserve energy
Air Quality
Never leave the health of your home up in the air. The Milieu Climate smart thermostat shows you the air quality of a room.
Monitor the health of your home
Measure volatile organic compounds (VOCs)
Determines fresh air
Provides equivalent CO2 readings
Humidity
No one reads a room better. Milieu Climates' built-in sensors monitor the humidity levels in your home. If it's too high, its Dry Mode function will remove moisture to increase comfort.
Know if your home is dry, humid or healthy
Helps reduce allergies
Automatically optimise air conditioning settings
Pressure
Informed and insightful, the Milieu Climate's barometric sensor monitors the pressure level in your home and surroundings.
Get an understanding of the climate outside and upcoming weather
Track high pressure (indicating clear skies, dry and stable weather)
Track low pressure (indicating unstable weather like rain or storms)
Sound
The Milieu Climate smart thermostat looks out for you, monitoring the sound levels in your room for ultimate relaxation and concentration.
Identify if your office space is quiet enough or if your workplace is too loud
Identify loud noises at home when you are out
Light
The Milieu Climate can identify ideal lighting levels for your day-to-day activities. It will also indicate when smart lights have been left on.
Identify if blinds are open or closed
Save energy
Motion
Improve energy efficiency with the Milieu Climate's motion sensors. It detects if someone is in the room or not and adjusts the temperature accordingly.
Learn if no one has used a room for over an hour
Dial down or turn off heating/cooling for energy efficiency
Use the dial to adjust the thermostat and control the environment.
Take control with the Milieu Climate app.
The Milieu Climate app allows you to control the Milieu Climate smart thermostat and design your ideal space at any time, from anywhere. You can manage multiple hubs, giving you control over multiple locations. Portable Hubs can be grouped together under properties, and you can even switch between hubs for added convenience.
Climate Control
Change operating mode and target temperature with the cool, heat, dry, fan only and auto options. You're in complete control.
Environmental Display
The environmental display shows real-time sensor readings.
Timers & Schedules
Set a timer to change the system's operating mode for up to 24 hours. With schedules, you can program the portable Hub to automatically change modes, fan options and temperature when desired.
Schedules span 7 days with customisable events for every day of the week.
Why choose Milieu Climate for your home or office?
Smart Phone Control

The Milieu Climate app allows you to control your environment at any time, from anywhere. Download the app and manage multiple hubs and multiple locations. Milieu devices are also compatible with Google Assistant and Amazon Alexa, giving you the added convenience of voice control.

Energy savings

The Milieu Climate smart thermostat gives you the ability to reduce your overall energy consumption and save on bills. Taking the Hub with you lets the Milieu Climate identify the room you're in, providing you with the right amount of cooling or heating.

Portable

The Milieu Climate talks wirelessly to the Smart Base and has an internal battery. Simply place the portable Hub in the desired room to control its temperature and monitor its environment to design your ideal space.

Reliable

Built using high-quality design materials like CNC machined aluminum, the Milieu Climate is made to last.  It has a fallback mode and smart base override to always keep you in control. When connected to the internet, the Hub receives the latest software upgrades, ensuring your product is always up to date.

Simple

From installation to operation, the Milieu Climate has been designed to make everything as seamless as possible. The easy-to-use app allows you to control and monitor your environment from anywhere. With a 24VAC system, you can install the Milieu Climate yourself or use an Adapter Kit if your HVAC system uses proprietary controls.

Engineered in Australia

All Milieu Labs products are designed and engineered in Australia. We have a dedicated team based in Sydney who is always ready to answer your questions and provide assistance.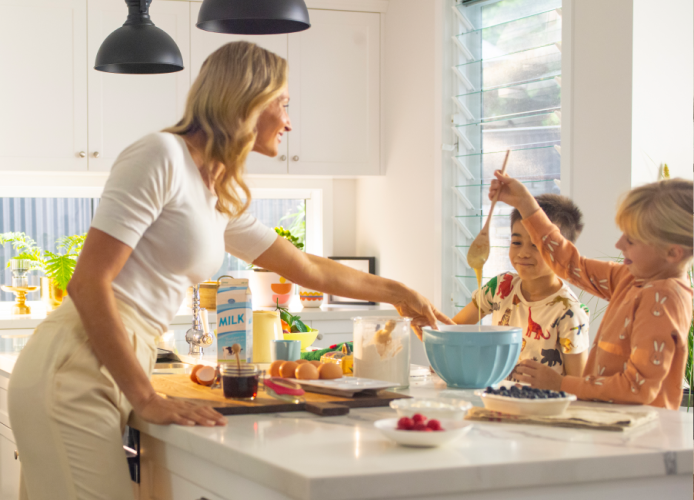 Designed by Australians
for Australian
homes.
The Milieu Climate has specifically been made to work with most HVAC (heating, ventilation and air conditioning) systems available in Australia. For use with 24VAC systems, you can simply install the Milieu Climate yourself, or with the help of a professional.
If you have an inverter reverse cycle air conditioner, you can install the Milieu Climate by using the adapter kit specific to your system. Head to our brand adapter kit page to find your brand.
Shop
Milieu Climate has won the
Good Design Awards 2021 –
Best in Class
Our smart thermostat became the Best in Class winner for Good Design Award 2021 for Product Design, Consumer Electronics. Elevating both ingenuity and aesthetics, it's better for the home, better for the planet, and great for the wallet. It allows users to control their whole environment – not just a room.

Powered by Milieu Climate
ZoneMate works with your air conditioner to control up to 8 zones with thread radio for future proofed technology and cloud monitoring for industry leading support.

Create your perfect home environment
The Milieu Climate is more than just a smart thermostat. It allows you to improve your living environment by controlling your ducted air conditioner or gas heating system whilst monitoring everything from air quality and lighting levels to sound and humidity.
Create your ideal space
with beautifully
connected technology.